At St Elizabeths we provide our children with everything they need to live long, fit, healthy lives. We know healthy children are more alert and successful in school, less likely to suffer from persistent illness and are generally happier.
We use School Sports Funding to provide a number of different clubs to encourage children of all ages and abilities to live healthy, active lives. Check out our clubs pages for ideas and if you have any ideas or suggestions for future clubs please see Mrs Hallinan.
So how else can we help? Simply check out the links and support below to find out more…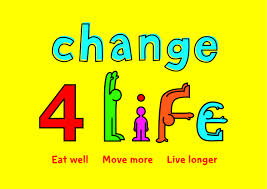 Change for Life
http://www.nhs.uk/change4life/Pages/change-for-life.aspx
This fantastic site offers recipes, games and fitness challenges for the whole family! There's a 10 minute Shake Up Zone to add 10 minutes of activity to each day, healthy food swap ideas and links to local clubs for activity.
It's free to join and packed full of great ideas.