The Government in England wants every school to be a sustainable school by 2020. Eco-Schools is an international award programme that guides schools on their sustainable journey, providing a framework to help embed these principles into the heart of school life (Eco-Schools website).
We have achieved the Bronze award and are working towards Silver. We will update our progress as we complete work.
There are nine topics in the Eco-Schools programme, all designed to help schools address environmental issues. They are:
Water
Energy
Healthy Living
School Grounds
Biodiversity
Global Perspectives
Litter
Transport
Waste (including Recycling)
Why do we have an Eco Committee?
The Eco committee is an ideal opportunity for our pupils to get more involved in the way St Elizabeth's Primary is ran and help it to be environmentally friendly. The Council benefits the whole school, pupils and teachers, because it provides opportunities for pupils to communicate their feelings as well as influence decisions that are made. Councillors develop skills such as confidence, communication and negotiation. It is the responsibility of each Councillor to ensure that they express both their own views and the views of all the other pupils they represent.

Who can be a member of the Eco Committee? We have a pupil representing their fellow pupils from Reception to Year 6. Each year we hold a special election day when candidates are voted for by their classmates.
What do we do?
Members of the Council take part in discussions and votes and also feed back any relevant information to their class. At times they are requested to ask their class for ideas or take class votes relating to discussions by the Council. Members meet regularly with Mr Daniels to discuss their ideas.
The Eco Council has continued to highlight the need to reduce, reuse and recycle. We are very pleased that each classroom and office now use a paper recycling bin. These are emptied weekly and then Sefton recycle them appropriately. We have written to the PTA to see if we could provide every child with a reusable water bottle to reduce the amount of plastic being wasted. We are hopeful they will help us with funding!
Eco Councillors 2021-2022
RA – Zane Wardle
RT- Ben Hughes
10C- James Gallagher
1F- Alfie Hughes
2SP- Jack David
2J- Lewis Durham
3A- Hope Adderley
3F- Emily Donnelly
4B- Georgia Gray
4KB- Amelia-Mai Johnson Taafe
5J- Lizzy Lloyd
5T- Lacey Holmes
6B- Charlie Smith
6K- Izzy Upton
7th October 2021
Our Eco Council have been hard at work! At our first meeting we decided that the outdoor area by Year 2 needed a bit of attention. So today we've been working with Mr Metcalf to try and make the area more accessible and useful for the other children.
Eco Council Meeting – 24th September 2021
Reception to receive recycled plastic for junk modelling
All Eco Council Members to be responsible for turning off the lights
Area outside Year 2 needs some attention to make it a nice outdoor learning area.
Forest School
We are so excited to show you all our brand new Forest School! We have been working along- side our friends at Mersey Forest for a few months in the planning and development of the area and it is now all finished! We are so, so pleased with the area and can't wait to get out there and enjoy our new Forest School.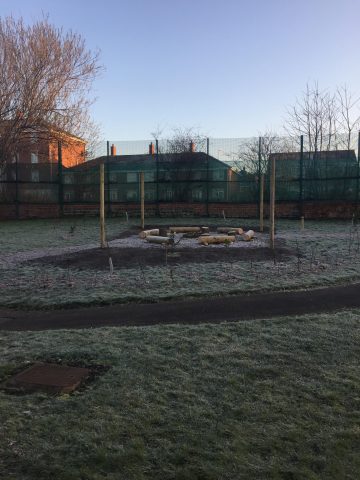 We were very fortunate to have Jim from Community by Nature organisation to deliver six fantastic lessons. We will be fire building, clay mask making, den building and lots more exciting activities.
Forest School Update
We are so pleased that our Eco School is back up and running! Jim from Community by Nature is working with the children and staff from 3A. Each Thursday the children will participate in the Forest School activities, keep an eye on the Year 3 Twitter account for photos!
Some children from 3F will also be joining Mr Metcalf at lunchtimes for Forest School Club.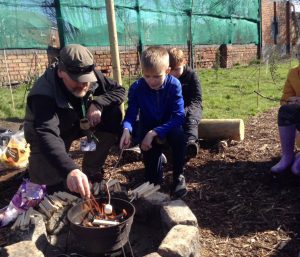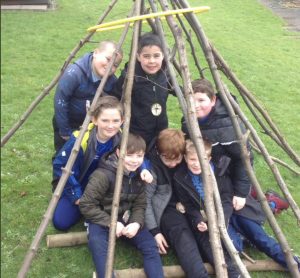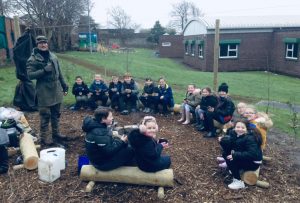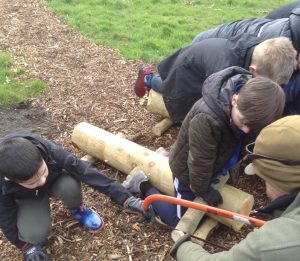 _______________________________________________________________________________
The Eco council visited Veolia Recycling Centre.
Year 3 and Year 5 went bulb planting.
Water Bottles
The Eco Council have written letters to the PTFA to see if we can buy every child a water bottle.
We want to reduce the amount of plastic we use in school.
____________________________________________________________________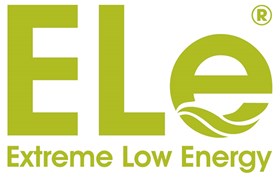 Today we were extremely lucky to have been visited by Ken Kneale from Baden energy and Caroline Clayton from Ele.
We enjoyed an assembly about solar energy and then we were given a solar computer!
Thank you to Baden Energy for the funding and Ele for providing the school with such a fantastic piece of equipment.
A huge "Well Done" must also go to our Eco Council who first contacted Baden Energy.
_________________________________________________________________________________